Aligned with the global movement towards environmental sustainability, Vietnam's shipping industry is proactively adapting to reduce its carbon footprint in accordance with international trends.
In response to this situation, the Vietnam Maritime Administration convened a conference at the end of October to disseminate Circulars and Resolutions of the International Maritime Organization (IMO), with a focus on reducing greenhouse gas emissions.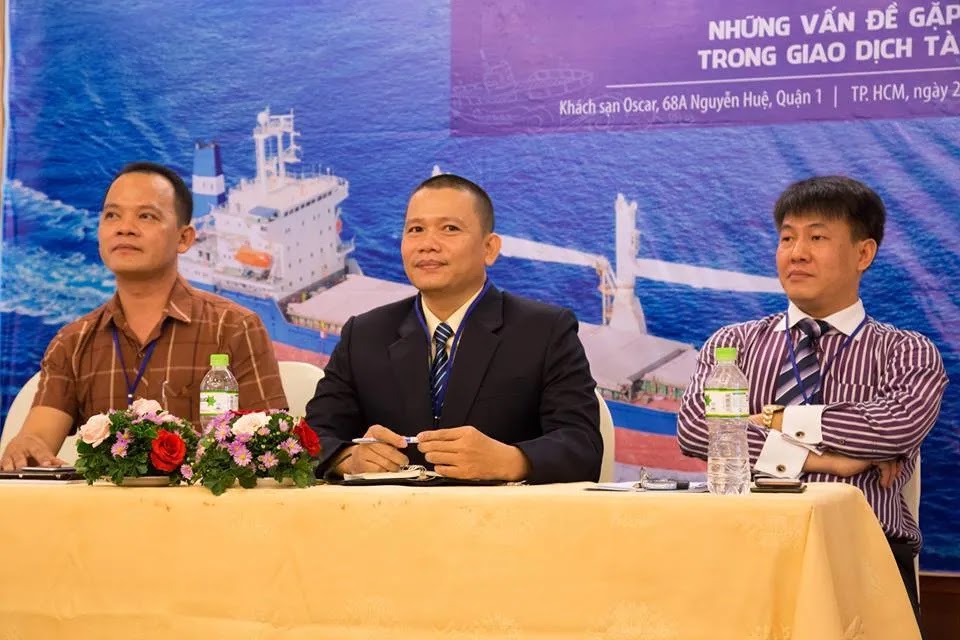 La Quang Tri (center), chairman, ShipOffer. Photo credit: La Quang Tri.
During the conference, Chairman La Quang Tri of ShipOffer said there are unique emission challenges faced by Vietnam's shipping industry, primarily characterized by a bulk fleet engaged in transporting general cargo and chemicals on short routes, and a relatively small container fleet (less than 50 ships).
Tran Thi Tuyet Mai Anh, head of International Cooperation Department, Vietnam Maritime Administration, affirmed that the country has been implementing IMO regulations aimed at curbing greenhouse gas emissions from ships.
The 2023 IMO Strategy sets a target to reduce total annual greenhouse gas emissions by at least 20 percent by 2030, and to achieve 80 percent reduction by 2040 compared to 2008 levels, with the ultimate aim of net zero by 2050. Compliance with the IMO strategy is compulsory for all ships belonging to the MARPOL Convention member countries, Vietnam included.
The Vietnam Maritime Administration has outlined a comprehensive green energy conversion roadmap. A spokesperson said all stakeholders, including port operators, ship owners, and shipping companies, has a responsibility for a green port and the conversion of energy usage on ships.
A representative from the Vietnam Maritime Corporation said that as of January 1, 2020, their vessels have transitioned to using fuel with a sulfur content not exceeding 0.5 percent, in contrast to the previous sulfur content of 3.5 percent.
Additionally, the company is also looking into using exhaust gas treatment systems, known as SOx (sulphur oxides) scrubbers, which clean the exhaust gas to reduce SOx emissions to a level that is equivalent to the required fuel sulphur content. This option offers the flexibility to either solely operate on low-sulphur fuels or to install an exhaust gas treatment system but use higher sulphur fuels.
La Quang Tri from ShipOffer said moving forward, his company will lease ships using sustainable fuels to replace the current fleet when their leases expired. He also said other green options include optimizing supply chains so that the most efficient routes are used to cut down on shipping days and using environmentally-friendly packaging.
Tri added: "Another important factor is that all company employees must have environmental awareness and incorporate this mindset into their day-to-day work to minimize adverse impacts on the environment."
Unilaterally, individual efforts are limited and therefore, Tri urged all stakeholders to unite to reduce emissions because with collective strength, he believed the Vietnamese shipping industry will achieve the IMO's aim of net zero by 2050.
By Valerie Nguyen
https://maritimefairtrade.org/vietnam-to-reduce-20-shipping-emissions-by-2030/